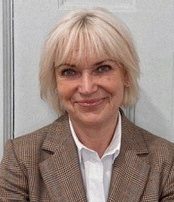 Lisa Kearney
Therapist
Conditions treated
Treatment approaches
Motivational interviewing
Person-centred therapy
Professional qualifications, accreditations and memberships
MSc in addiction psychology and counselling
Member of the British Association of Counsellors & Psychotherapists (MBACP)
Accredited Member Drug and Alcohol Professional (AP ADAP), formerly the Federation of Drug & Alcohol Practitioners (FDAP)
Motivational Interviewing: Advanced level training
Professional experience
Lisa Kearney is a sessional therapist at Nightingale Hospital and sees clients who are struggling with drug and alcohol problems, on a one-to-one basis and in groups.
Alongside her work at Nightingale, Lisa also works as a therapy services manager in another private sector organisation in the addictions field.
She also has experience in running family programmes, considering this work crucial to achieving the best possible outcomes, for not only the individual struggling with addiction issues but family and significant others too.
Lisa previously worked as a therapist at Steps2Recovery, a charity based in Stoke Newington. The charity primarily supports ex-offenders with substance abuse issues, on a residential and non-residential basis.
Prior to making a career change to undertake training in addiction, Lisa worked in investment banking.
Personal statement
Lisa specialises in working in the field of addiction (clients struggling with addiction issues, family members and significant others). Invariably this may involve working with dual diagnosis clients who may present with issues such as anxiety, depression, stress, relationship and interpersonal difficulties, trauma, PTSD, ADHD, loss, addiction, self-harm, and low self-esteem.
When working one-to-one, Lisa's approach is client-focused, integrative and collaborative, and her sessions are tailor-made to meet the client's needs. She draws on a range of therapeutic modalities including cognitive behaviour therapy (CBT), motivational therapy (MI) and a person-centred approach. Lisa believes in creating a safe, non-judgmental space, placing an emphasis on the importance of the therapeutic relationship.
Lisa sees addiction as a profoundly anti-social disorder whereby people can find themselves completely isolated from others which is why group therapy in her view one of the most effective ways to support those struggling with addiction issues, group work is profoundly pro-social.
Lisa is a member of the British Association for Counselling and Psychotherapy (BACP) and abides by their code of ethics.