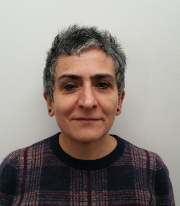 Leyla Metin
Sessional psychotherapist
Conditions treated
Treatment approaches
Professional qualifications, accreditations and memberships
MA in Gestalt Psychotherapy
Psychotherapy Practitioner Diploma in Individual and Group psychotherapy
Post Graduate in Gestalt Therapy Theory Studies
Certificate in Humanistic Counselling
Certificate in Stress Reduction Through Mindfulness
Diploma in Hypnotherapy
Gestalt Brief Therapy
Gestalt group therapy
Solution Focused Brief Therapy
CAT (Cognitive Analytic Therapy)
Professional experience
As a practising psychotherapist since 2001, Leyla Metin has had the opportunity to work with a diverse client base in a variety of therapeutic settings; including volunteer organisations, NHS, private practice and currently at the Nightingale hospital offering individual and group therapy.
In her work as a therapist in NHS hospital settings for 10 years, she offered supervision and both one to one and group therapy to people who suffer from various difficulties, such as managing long term health conditions, PTSD, anxiety and panic disorder, eating disorders, obsessive-compulsive disorder, bipolar disorder, depression and relationship difficulties.
She believes she has a depth of understanding and therapeutic skills to work with a broad range of mental health and emotional difficulties people face.
Personal statement
Leyla has been trained in both individual and group psychotherapy. In her work, she focuses on the relational aspect and analytic process of psychotherapy. Her emphasis is on staying close to the client's experience, clarifying feelings, sensations and meanings in the present moment within their frame of reference and exploring emerging patterns and themes. Part of the exploration will involve considering how past events are often lived on in the present through thoughts, feelings and physical responses. Attending to these can allow us to revisit events with a different eye and become more aware of our unhelpful way of relating to others and self and thereby creating new and more satisfactory resolutions to dilemmas and difficulties. In this way, we can broaden our options, free up our energy, and become more available to ourselves and others.
Gestalt psychotherapy, which underpins her approach, is an integrative approach encompassing Gestalt psychology (psychology of perception), existential and humanistic philosophy, psychoanalysis, behaviourist model and bodywork. As a holistic approach, Gestalt therapy stresses the integration of mind and body, thought and feeling.