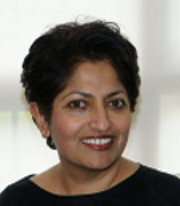 Dr Elza Eapen
Consultant psychiatrist, General psychiatry
Conditions treated
Professional qualifications, accreditations and memberships
MBBS, MRCPsych,
Member of the Royal College of Psychiatrists
Fellow of the Royal Society of Medicine
Member of the Psychopharmacology and Occupational Psychiatry Special Interest Groups of the Royal College of Psychiatry
Member of the Independent Doctors Federation
Professional experience
Dr Elza Eapen is a consultant psychiatrist and is featured on the specialist register of the General Medical Council.
She has over 25 years of experience in general adult psychiatry.
Dr Eapen completed specialist training in psychiatry and obtained her Membership of the Royal College of Psychiatrists in 1984. She then worked closely for a number of years with the late Professor Linford Rees, Past President of the Royal College of Psychiatrists and, during that time, successfully ran the Huntecombe Manor Hospital as its Medical Director between 1989 and 1992.
Since then, she has been based in central London, where she has established a successful practice in general adult psychiatry with a special interest in work-related stress disorder, affective disorders including major depressive disorders and bipolar disorders, anxiety disorders, Obsessive-Compulsive Disorders (OCD), schizophrenia and psychopharmacology.
Dr Eapen is approved under Section 12 of the Mental Health Act and also approved as an approved clinician for purposes of the Act.
Her work also involves liaison psychiatry with an assessment of patients in general hospitals, such as the London Clinic at the request of colleagues from other medical and surgical specialities.
She is in good professional standing with the Royal College of Psychiatrists for purposes of CPD (Continuing Professional Development).
She is on the approved specialist list of all the private medical insurance providers.
Personal statement
Dr Elza Eapen is dedicated to the care of her patients. Her approach to the assessment and treatment of patients involves collaboration with patients in drawing up treatment plans which are individually tailored to suit the clinical needs presented. This is with the use of medication when necessary, but always in combination with psychotherapeutic support which, in the conditions she treats, can often involve and be based in cognitive behavioural therapy.