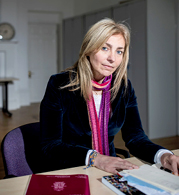 Dr Henrietta Bowden-Jones
Consultant psychiatrist, Addiction specialist
Conditions treated
Treatment approaches
Professional qualifications, accreditations and memberships
OBE
Honorary Professor, University College London UCL
Medical Degree
Social Psychology Honours degree
Psychiatry Speciality with dual accreditation in Addiction Psychiatry from Royal College of Psychiatrists
Doctorate in Neuroscience from Imperial College
Diploma in Occupational Medicine from the Faculty of Occupational Medicine
Co-opted Member of the Royal College of Psychiatrists Executive Committee (Behavioural Addictions expertise)
President of the Medical Women Federation (2018-2020)
Executive Board Member of the International Society of Addiction Medicine
Founder and Director of the NHS National Problem Gambling Clinic
Founder and Director of the NHS National Centre for Gaming Disorders
Professional experience
Dr Henrietta Bowden-Jones is a consultant psychiatrist with many years of experience in treating all mental illnesses.
She is currently working both in the NHS where she runs a large team at the National Problem Gambling Clinic and a smaller team at the National Centre for Gaming Disorders.
She is the co-recipient of Medical Research Grants and leads a long-term national research group conducting studies on behavioural addictions between Cambridge University and London.
Dr Henrietta Bowden-Jones also work at the Nightingale Hospital in London where she has worked for many years looking after people suffering from anxiety, stress, depression, alcohol problems, drug problems, and relationship difficulties. She has many patients who are sent to her by occupational physicians or employers, as one of her areas of expertise is returning people to work after she has treated them.
She works with many of the large employers in this country including London Underground. She has expertise in working with top sportspeople, and also greatly enjoys working with the creative and artistic professions.
Personal statement
Dr Henrietta Bowden-Jones is an optimist by nature and truly love the challenge of getting all her patients better. Dr Bowden-Jones has been doing this job for many years and still loves it, still looks forward to each and every one of her working days. She is committed to her patients and takes care of them with a mixture of empathy and evidence-based medical knowledge. This seems to work as she has often looked after people and has been referred to their friends and family because of their positive experiences.
Additional information about my research, publications and interests
Dr Henrietta Bowden-Jones has been published extensively, has been awarded professional and research prizes and is interviewed regularly by the media, lecture to audiences both in the UK and abroad.
A list of all her professional achievements and publications can be seen on my website.
Website: