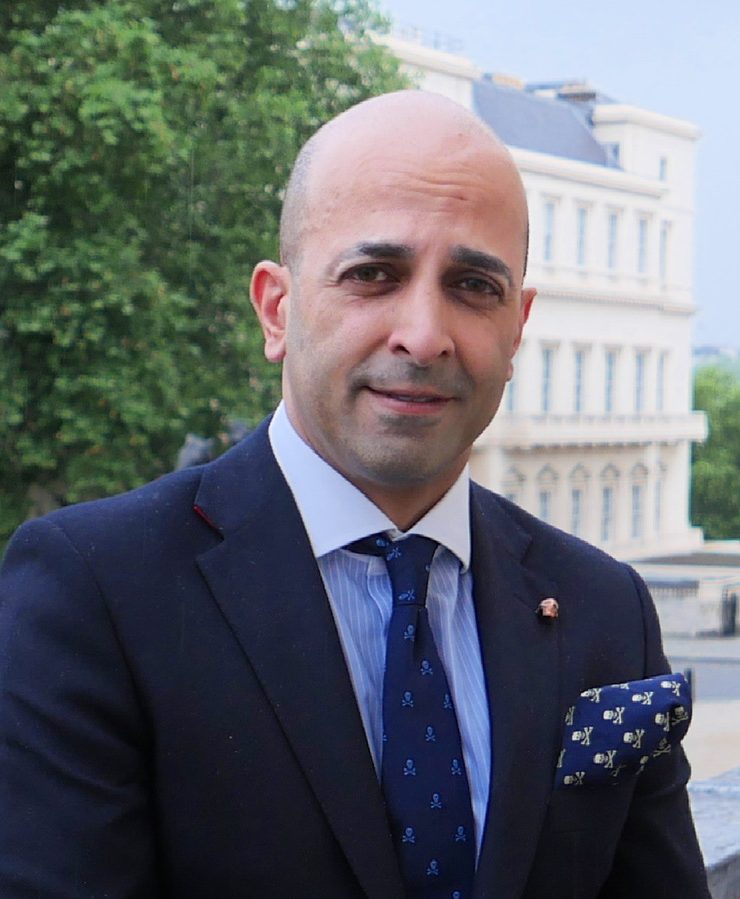 Dr Az Hakeem
General adult consultant psychiatrist, Medical psychotherapist
Conditions treated
Treatment approaches
Professional qualifications, accreditations and memberships
Medical Psychotherapist & Group Analyst
Medicine MBBS: University College London
Fellow of The Royal College of Psychiatrists
CCST in Forensic Psychiatry
CCST in Psychotherapy
MSc Group Analysis
Honorary Clinical Associate Professor UCL Medical School
Professional Patron Shaw Mind Mental Health Charity
Dr Az Hakeem – Professional experience
Dr Az Hakeem studied medicine at University College London, before completing house officer posts in medicine and surgery at London and Glasgow teaching hospitals. He then went on to complete senior house officer training in psychiatry on the Royal Free Hospital training scheme.
Additionally, he obtained higher specialist training in forensic psychiatry and psychotherapy at the Tavistock and Portman Clinics, alongside a Kleinian full training analysis.
Following his individual psychoanalytic psychotherapy training, he then trained as a group analyst at The Institute of Group Analysis, London (IGA) and completed an MSc in Group Analysis at Birkbeck University for which he was awarded a distinction.
Dr Az Hakeem worked both as a consultant psychiatrist in general psychiatry and psychotherapy at Camden and Islington NHS Foundation Trust, and in forensic psychotherapy at the Portman Clinic where he worked for 12 years until 2012. In 2012 he completed a one-year sabbatical in Sydney, Australia. He remains a senior lecturer in psychiatry at the University of New South Wales.
In 2011, in recognition of his contribution to psychiatry, Dr Az Hakeem was awarded Fellowship to The Royal College of Psychiatrists.
After over 15 years working in the NHS, Dr Hakeem now works exclusively in private practice. He was a consultant at the Priory Hospital Roehampton for eight years prior to moving to Nightingale Hospital.
In 2017 Dr Az Hakeem became part of The Shawmind Foundation for whom he is a founder, professional patron and ambassador.
2019 also saw Dr Hakeem's appointment as Honorary Associate Clinical Professor at University College London (UCL) Medical School.
Dr Az Hakeem – Personal statement
Dr Az Hakeem treats most mental health disorders and also offers treatment for alcohol dependence and some other addictions.
Treatments may consist of medication and some form of talking therapy tailored to your specific needs. Talking therapy will either be by carefully selected psychotherapist colleagues or by Dr Az Hakeem himself.
All treatment options including possible medications, types of therapy, therapist and treatment setting will be discussed with you at your appointment and tailored to your bespoke needs.
All consultations take place in comfortable settings to put you at ease and are confidential, with necessary communications being made to relevant other professionals involved in your care, including your GP, with consent.
Dr Az Hakeem is a consultant medical psychotherapist and fully trained in a number of different types of psychotherapy.
He is able to treat the following conditions:
Professional burnout
Quarter/Mid-life crisis
Psychotherapy for Sex/Gender dysphoria
Second opinion assessments
Additional information about your research, publications and interests
'TRANS: Exploring Gender Identity and Gender Dysphoria'. Hakeem, A. (2018)
Development and validation of a measure for assessing gender dysphoria in adults: The Gender Preoccupation and Stability Questionnaire'. Hakeem, A., Črnčec, R., Asghari-Fard, M., Harte, F., Eapen V. International Journal of Transgenderism (26th August, 2016) | Link to article
'Psychotherapy for Gender Identity Disorders'. Hakeem, A. Advances in Psychiatric Treatment (2012), vol.18, 17-24 | Link to article
'Study Protocol for a randomized controlled trial of mentalization-based therapy against specialist supportive clinical management in patients with both eating disorders and symptoms of borderline personality disorder.' Robinson, P., Barrett, B., Bateman, A., Hakeem, A., Hellier, J., Lemonsky, F., Rutterford, C., Schmidt, U., Fonagy, P. BMC Psychiatry 14(1): 51. 2014
'Deconstructing Gender in Trans-Gender Identities'. Hakeem, A. Group Analysis. The International Journal of Group Analysis Volume 43 Issue 2, June 201
'Parallel Processes': Observed in the Patient, Therapy and Organization. Hakeem, A. Group Analysis. The International Journal of Group Analysis Volume 43 Issue 4, December 2010
'Forensic Group Psychotherapy': Estela Welldon's contribution to working with Groups at the Portman Clinic. Hakeem, A. The British Journal of Psychotherapy. Vol 25 No 2. May 2009.
'Changing Sex or Changing Minds: Specialist Psychotherapy and Transsexuality'. Hakeem, A. Group Analysis. The International Journal of Group Analysis. Vol 41, No 2. June 2008 pp182-196.
'From Freud to Foulkes to the Future: The Development of Group Analysis and its Continual Evolution'. Hakeem, A. Group Analysis. The International Journal of Group Analysis. Vol 41, No 1. March 2008 pp40-52
'Survey of Violent and Threatening Behaviors within a Learning Disability In-Patient Unit'
Hakeem, A. Psychiatric Bulletin, Royal College of Psychiatrists, Nov 2002
'Transsexualism: A Case of the Emperor's New Clothes?'
Hakeem, A. Chapter 10 of 'Lectures on Violence Perversion and Delinquency' edited by D Morgan and S Ruszczynski published by Karnac Books 2006
Book Review 'Please Select Your Gender' by Patricia Gherovici. Hakeem, A. Sexual and Relationship Therapy Vol 25, No.4 November 2010, pp465-469
'No physical health, only mental health'. Hakeem, A. The Psychiatrist 2011. Vol 35 Issue 4: 156-157
'Review of the social unconscious in persons, groups and societies, vol 1: Mainly theory'. Hakeem, A. Psychoanalytic Psychotherapy, Vol 27(1), Mar 2013
Website and social media