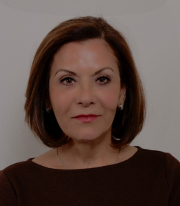 Dr Pari Farzim
Consultant Systemic & Family Psychotherapist
Conditions treated
Treatment approaches
Professional qualifications, accreditations and memberships
BSc (Hons) in Law
MA in Social Policy and Administration, London School of Economics
MSc in Systemic Family Therapy, London University/Institute of Family Therapy
PhD in Systemic Psychotherapy. London University/Birkbeck College
Advanced Certificate in Supervision and Training, IFT
United Kingdom Council for Psychotherapy (UKCP)
Association for Family Therapy (AFT)
Institute of Family Therapy (IFT)
College of Family, Couple and Systemic Therapy (EFTA)
Registered Supervisor (AFT-IFT)
Professional experience
Dr Pari Farzim is a consultant family and systemic psychotherapist.  She has worked within NHS for 25 years, most recently as a consultant systemic psychotherapist within Child and Adolescent Mental Health Service at Richmond Royal Hospital, South West London. At St Georges NHS Trust she is the head of Psychology and Psychotherapies within Child and Adolescent Mental Health Service and leads a department for adolescents with eating disorders, which had been recognised as one of the best services in the capital.
Dr Pari Farzim originally trained as a lawyer. She subsequently pursued a career in mental health and obtained a PhD in Systemic Psychotherapy from London University. She has also obtained a degree from London University/ Institute of Family Therapy as a trainer and supervisor recognised by the Association of Family Therapy and UKCP.
She has taught for many years on the Family Therapy Master Degree courses within the Institute of Family Therapy and Institute of Psychiatry. At present, she works privately at different organisations such as Nightingale Hospital, 999 Medical Centre and Harley Street.  She also offers post-qualifying supervision to clinicians working within the field. For many years, she has run groups for people with eating disorders and their families, anxiety and depression and other stress management difficulties. Whilst her work in the public sector has been mainly with adolescents and their families, she has developed her expertise in working with couples and individuals through further training, her private practice as well as supervising clinical work of other practitioners.
Personal statement
Dr Pari Farzim is available to anyone who wants to change and feel better about themselves. She has many years of experience working with different kind of emotional and psychological difficulties. Her special field of expertise is eating disorders and couple therapy but works with any family with complex psychological and relational difficulties. She is particularly interested to work with families when a member of the family suffers from a mental health difficulty, which was the field she researched for her PhD.
She would like to be able to provide a safe and comfortable space for therapy and would spend time in the first session to provide psychoeducation and would be interested to know about your prior experience of therapy.
The initial meeting will be your opportunity to evaluate whether you feel comfortable working and discussing personal issues with her. A good comfort level is one of the keys to a good therapeutic relationship.
The therapy ends when you have learned to better deal with the difficulties in your life that initiated seeking professional help.