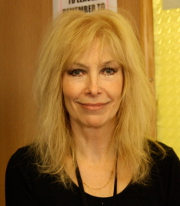 Dr Prunella Gee
Psychotherapist, Addictions Counsellor
Conditions treated
Treatment approaches
Professional qualifications, accreditations and memberships
PhD (Psychology, Birkbeck University of London)
MSc
FDAP
NCAC
MBACP
Professional experience
Dr Gee has worked as an addiction and family therapist, conjoint counsellor and family group facilitator at a variety of UK-based hospitals and counselling centres. For 30 years prior to that, Prunella enjoyed a busy full-time job in the arts. She has been in private practice since 2006.
Personal statement
As an integrative therapist, Dr Prunella Gee draws on different disciplines (person-centred/12 Step/aspects of the psychodynamic approach/existential) which she uses according to need and the different stages of a client's development. She will look closely with you at your choices – those you have made (those you didn't know you made!) and those you will make. You will never be judged or criticised and hopefully will realise you do not need to be 'changed' in any way. Changes will be in your attitudes and your perceptions and these will come from you.
The decision to enter (or re-enter) therapy is seldom taken lightly. It involves effort and surrender in equal measure. Some people take long-term therapy as an investment in themselves even in the less desolate times, to take stock of life, have a place to think things through, explore motivations, resistances and fantasies; and some have a need for short-term 'problem solving' counselling focused on specific issues. Prunella will always adapt to your needs.
Dr Prunella Gee has special experience in relationship issues, depression, addictive tendencies (from drugs and alcohol to behaviours and compulsions), those suffering from others' addictions, co-dependence, people in 12 step fellowships; and, of course, anyone who feels lonely, excluded, alienated, stuck, put-upon, inadequate, unrecognized, rejected, misunderstood, or just a bit sad – in other words, all of us, at times.
She also specialises in actors and performers and later life issues (my PhD was a study of the psychological impact of retirement, particularly on men).
Additional information about research, publications and interests
Gee, P.M. (2011). 'Approach and Sensibility': a personal reflection on analysis and writing using Interpretative Phenomenological Analysis. Qualitative Methods in Psychology Bulletin,B.P.S. 11, 8-22.
Gee, Prunella. Review of Derek Milne "The Psychology of Retirement: Coping with the Transition from Work." (2014). Wiley-Blackwell (review in Existential Analysis).
Gee, Prunella. Review of Martin Adams "An Existential Approach to Human Development: Philosophical and Therapeutic Perspectives." (2018). Palgrave (review in Existential Analysis).
University of Nottingham August 23rd-25th 2010: Qualitative Methods in Research Section, B.P.S. – A Change of Tongue.
'Glimpsing the Void': An Interpretative Phenomenological Analysis of One Man's Experience of Retirement.
'From birth to retirement and beyond: towards an existential model of human development through the life span' at The World Congress for Existential Therapy in May 2015
Gee, Prunella. "Two hats: the case study as viewed by the therapist-researcher" Chapter in Case Studies in Existential Therapy: Translating Theory into Practice edited by Simon du Plock. PCCS Books Ltd: ISBN 9781910919286