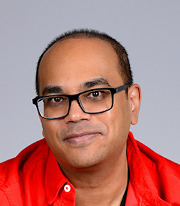 Dr Mahen Jhugroo
Chartered clinical psychologist
Conditions treated
Treatment approaches
Professional qualifications, accreditations and memberships
DPsychSc Clinical Psychology
MSc EdPsych
Clinical Cert Psychotherapy
PgCert CBT
Ba (Hons) Psychology
Chartered Member of the British Psychological Society (BPS CPsychol)
Registered with the Division of Clinical Psychology of the British Psychological Society
Member of Psychological Society of Ireland (PSI)
Registered Practitioner with Health and Care Professional Council (HCPC)
Professional experience
Mahen is a Chartered Clinical Psychologist registered with the Health and Care Professions Council and the Division of Clinical Psychology of the British Psychological Society. He completed his training at the National University of Ireland, Galway and the Institute of Education at University College London. Mahen has been working in the Mental Health Services for more than 12 years.
He has extensive experience working with adults with complex and enduring mental health problems. During his training and post-qualifying, Mahen received extensive training in the application of Cognitive Behavioural Therapy (CBT). He has also received further specialist training in EMDR and Schema Therapy and more recently, in mindfulness-based approaches such as Acceptance and Commitment Therapy (ACT) and Compassion-Focused Therapy (CFT).
In his clinical practice, Mahen adopts an integrative and flexible approach taking into account individuals' particular needs and psychological therapy goals.
Personal statement
Mahen feels privileged to be able to have the opportunity to work with different individuals of varying age and backgrounds. As a clinical psychologist, he has been trained as a scientist-practitioner, which means he uses the available research evidence, in combination with his clinical experience, to deliver effective psychological treatments that are tailored to the needs of the individual. He believes that psychotherapy should empower the individual by increasing their understanding of the issue for which they sought help, as well as providing strategies to help them manage in the future.
He ultimately favours an integrative approach to assessment and treatment and incorporates elements of psychodynamic, Schema-focused, Cognitive Behavioural Therapy, Dialectic Behavioural Therapy, Mindfulness and compassion-focused approaches into his work.
Mahen works collaboratively with the individual in order to develop a plan for a joint therapeutic endeavour while using an eclectic approach based on an individual's resources and needs.
Information on research and other interests
Exploration of the process of Relapse Prevention Group in alcohol dependents attending Psychology Service.
Binge eating and morbid obesity: An examination of the roles of obsessive compulsiveness and emotional regulation
Investigating achievement and its relationships with trait anxiety, state anxiety, social skills and academic self-concept.
Investigating the relationship between marital satisfaction and psychological well being of married couples.