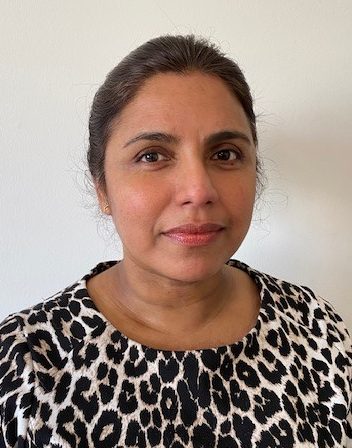 Dr Rakhi Oyewole
Consultant Child & Adolescent Psychiatrist
Conditions treated
Treatment approaches
Professional qualifications, accreditations and memberships:
MBBS
MRCPsych
CCST Child & Adolescent Psychiatry
Honorary Lecturer Imperial College
Professional experience
After obtaining a medical degree from Imperial College London, Dr Rakhi Oyewole worked in the field of Paediatrics for two years, before pursuing a career in child and adolescent psychiatry.
Dr Rakhi Oyewole has worked as an NHS consultant for 15 years, with expertise in the management of various mental health disorders. She has significant experience in working with young people from socio-economic and culturally diverse backgrounds. In addition to a senior management post within the NHS, she has been the lead in safeguarding and BAME matters and has extensive experience in gaining support for vulnerable families through close liaison with external agencies.
Dr Oyewole also has varied experience in the private sector alongside her NHS work. For five years, she held the post of Visiting Consultant Psychiatrist at Harrow School, London. In this role, she provided young people, sometimes far from home, with easily accessible and high-quality psychiatric assessment and treatment. She also sees a number of other young people and families seeking private care.
In addition, Dr Oyewole has been an appraiser for NHS consultants to help maintain quality and safety in the service for patients. She has also been an educational and clinical supervisor ensuring that all new doctors are trained to a high standard. She is Senior Lecturer at Imperial College, teaching the subject of medicine and therapeutic approaches to the next generation of doctors.
Personal statement
Dr Rakhi Oyewole provides psychiatric assessment and treatment for young people between the ages of 6 and 18 and is able to continue to consult young adult patients who may need continuation of care.
She is able to assess and manage a variety of disorders including Depression, Anxiety, Obsessive-Compulsive Disorder, Bipolar Disorder and possible Psychosis. In addition, she can provide a specialist assessment and management for Attention Deficit Hyperactivity Disorder (ADHD) and assessment for Autism Spectrum Disorder (ASD).
Having trained in psychological therapies as part of her specialist training, Dr Oyewole uses cognitive behavioural therapeutic and psychotherapeutic techniques to support medical treatment. She also provides family work when this is needed to improve the outcome for the young person. Her psychological experience also allows her to appropriately refer to more intensive, disorder-specific treatment from specialist therapists.
She is well-versed in the prescribing of medication when this is the evidence-based choice for the young person.
She is also able to consult in English and Bengali.