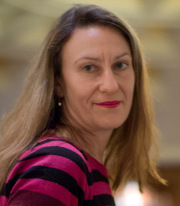 Sally Anderson
Psychotherapist, Drama Therapist
Conditions treated
Treatment approaches
Professional qualifications, accreditations and memberships:
Master of Science, Transactional Analysis Psychotherapy
Master of Arts in Drama and Movement Therapy
Accredited Psychotherapist, UK Council for Psychotherapy ('UKCP') Registration. No. 2011162265
State registered Dramatherapist, Health and Care Professional Council Registration No. AS2428
Health and Care Professions Council member
UKCP member
BACP member
British Association of Drama Therapists member
European Association of Transactional Analysis member
Professional experience:
Sally is an accredited psychotherapist and drama therapist and has worked at Nightingale Hospital London since 2004 facilitating drama therapy groups on the interpersonal therapy group (IPT) programme.  Her specific areas of expertise include adult and older adult mental health, sexual abuse, bereavement, and forensic work. She has extensive experience within the private hospital sector and the NHS providing group and one-to-one drama therapy to adult psychiatric inpatients in secure and open hospital settings. She was previously a bereavement counsellor for five years, and for four years was employed within HM Prison Service as a counsellor and drama therapist. For the past seven years, she has also worked as a group and individual psychotherapist with survivors of rape and sexual abuse, and train professionals in working with and supporting this client group. She maintains a small private practice, providing short and long-term psychotherapy.
Personal statement:
With dual training as a transactional analyst with psychotherapist and drama therapy specialism, Sally endeavours to respond flexibly to clients, offering both talking and creative approaches to therapy, as requested. Clients often unknowingly come with learnt patterns, which may have been the best adaptation to a prior situation, but no longer work in the present, leading to feeling stuck or distressed. Her philosophy is that people can change and grow if they are committed to it. Using psychotherapy and/or drama therapy, as chosen by the client, Sally provides a space and tools for clients to develop an awareness of their patterns, working actively together to solve problems with which they are struggling. She offers theoretical models to promote awareness and understanding and can use the creative arts as a means of discovering, exploring, expressing and resolving unhelpful patterns, opening up new possibilities of relating to self and others. These action methods can assist clients to discover alternative responses, and subsequently, reinforce chosen behavioural changes through active practice and experimentation. No previous experience of drama therapy is necessary as this method focuses on self-expression and is tailored to individual clients.
Her current main client group include adults with mental health issues, and men and women recovering from sexual violation. Previous clients have included people with a wide variety of issues, including relationship and interpersonal difficulties, schizophrenia, anxiety, addictions, bereavement, etc. She also has an interest in working with people with obesity and eating-related issues.