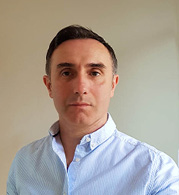 Andy Bird
Psychotherapist
Conditions treated
Treatment approaches
Professional qualifications, accreditations and memberships
MSc Mental Health studies and addiction counselling – Kings College London
Professional training in counselling and group work – City university
Foundation Programme in Counselling
Member BACP
Professional experience
Andy Bird has been working as a therapist since 1996 in a range of different treatment settings and different client groups. He began his career working in a number of addiction treatment facilities across London, offering group facilitation and one to one counselling support.  These treatment centres included the Priory Hospital, The RAPT programme at Wandsworth Prison, Thurston House Men's residential rehab, the Redcliffe project and the SHARP daycare programme.
Since joining Nightingale Hospital in 2000, Andy has worked extensively on the addiction and eating disorder programmes and carried a broad caseload working with clients suffering from depression, anxiety, drug and alcohol issues, eating disorders, love and sex addiction, shame and esteem issues and relationship problems.
He has also worked as a counsellor-trainer on a number of different professional counsellor training programmes.
Personal statement
As a therapist, Andy has come to believe that many of the behaviours and beliefs that bring us to seek help in the first place were previously coping mechanisms that are no longer helpful. Through dialogue, challenge and humour, the aim of therapy is for both himself and his clients to explore more meaningful ways for them to live and make sense of their lives.
Andy tailors therapy to meet the needs of each client and will draw upon core humanistic psychotherapeutic model, both his and the client's experiences of life, reflection on the relationship that exists between them, and utilisation of cognitive behavioural interventions as a way of making sense of their situation and seeking solutions for change.  Whilst the therapeutic models he draws upon are important for his work, his own deepest learning has come from self-reflection, relationships and own struggles to negotiate life on life's terms.
Andy's core areas of specialisation are shame/esteem issues, relationship issues and compulsive disorders – such as chemical addictions, eating disorders and relational addictions (love/sex and co-dependence).
In Andy's personal life, his roles as a dad and a husband are the most meaning things to him and provide the opportunity for the both the deepest intimacy and the greatest challenge and opportunities for learning about himself and negotiation with others.  As well as time with family and friends, Andy's own personal interests include photography, Christian history, Jamaican music and documentary-making.
Additional information about research, publications and interests
MSc thesis on shame
A current area of therapeutic interest is multigenerational trauma