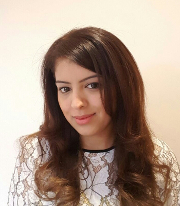 Dr Amar Bains
Chartered Clinical Psychologist, General Psychiatry
Conditions treated
Treatment approaches
Professional qualifications, accreditations and memberships
Doctorate in Clinical Psychology
BPS Chartered membership
HPC – Practitioner Psychologist
MSc Psychological Research Methods
BSc Psychology with Neuroscience
Postgraduate Certificate in Primary Care Mental Health
Professional Experience
Professional experience:
As a Doctor of Clinical Psychology, Dr Amar Bains is trained to work with patients across the life span with a diverse range of clinical presentations, including depression, perinatal depression, generalised anxiety, health anxiety, social anxiety, OCD, body dysmorphia, trichotillomania, chronic pain, long-term health conditions, autism, ADHD and PTSD. Dr Bains specialises in work with adults and children and adolescents.
She is trained in CBT, Systemic and Psychodynamic models of therapy. The main model that Amar uses to provide assessment, formulation and treatment, is Cognitive Behavioural Therapy (CBT), however, she will tailor therapy an incorporate other models of therapy into the work, to meet the needs of patients.
Dr Bains has worked in mental health for over 13 years, across many different care settings, which has included outpatient clinics, GP surgeries, secondary care mental health teams, and in-patient settings. She has always practised in London and is therefore familiar with working with patients from diverse backgrounds, including sexual orientation, ethnicity, socio-economic status, physical abilities or religious beliefs, of patients.
Amar supervises Trainee Clinical Psychologists and provides consultation and teaching to other professionals. She is actively involved in service-user involvement, as she believes passionately about placing patients at the heart of her care.
Personal statement
At some point in our lives, we may need help and support in dealing with our problems. In Amar's clinical practice, she first and foremost provides a confidential space where you can talk openly about your difficulties. She begins therapy by undertaking a comprehensive assessment to build a collaborative, shared understanding of your difficulties. Together, we will develop a tailor-made treatment plan to suit your needs that is grounded in evidence-based psychological theory and practice. Cognitive Behavioural Therapy is a time-limited, evidence-based therapeutic approach – during therapy we will regularly review your progress, to ensure that you are heading towards recovery.
Dr Bains is committed to continuing my professional development and undertaking further training where needed to build upon my knowledge and skills to provide an expert level of care to my patients.