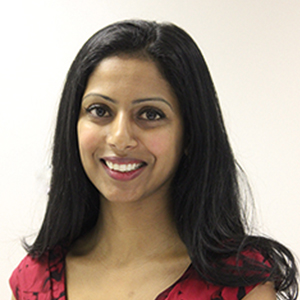 Dr Shruthi Guruswamy
Consultant psychiatrist
Conditions treated
Professional qualifications, accreditations and memberships
Professional statement
Dr Shruthi Guruswamy specialises in the treatment of common mental and behavioural disorders, including addictions and adult ADHD. In addition, she is trained as a dialectical behaviour therapist (DBT) and in functional medicine which both reflect her integrative approach to treatment. Her interests also include medicolegal aspects of psychiatric care, as her Masters is in forensic and legal medicine.
Personal statement
Dr Guruswamy works collaboratively with patients and their families when recommending the most suitable setting for treatment. For individuals with symptoms requiring more than can be offered on an outpatient basis, patients may benefit from inpatient treatment.
Individuals come to see Dr Guruswamy for a number of reasons. You may have noticed that you are suffering symptoms that you recognise as signs of psychiatric disorder, or, you may have experienced recent personal life events that have had a significant impact on your psychological well-being, work, relationships or family life. Alternatively, if you have noticed that you present a pattern of behaving or thinking, or abuse of substances, that are repeatedly causing you trouble.
Website