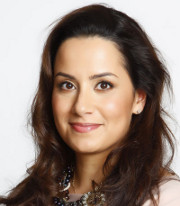 Dr Shamila Moodley
Consultant Psychiatrist, General Psychiatry
Conditions treated
Treatment approaches
Professional qualifications, accreditations and memberships
1st Class BSc (Hons) in Psychology
MBBS
MRCPsych
Member of the Royal College of Psychiatrists
Approved under Section 12 of the Mental Health Act
On Specialist Register of GMC as Consultant in General Adult Psychiatry
Professional experience
Dr Shamila Moodley qualified in Medicine from Guys & St. Thomas' Medical School and went straight on to specialise in psychiatry, first at South London & Maudsley and then onto the Royal free/UCL for higher specialist training. Dr Moodley feels very privileged to have trained in centres of excellence at London training hospitals and thus has achieved a wealth of experience.
She currently provides a link/triage service for Nuffield Health.
During two decades of practising in mental health, she has the experience of assessing, diagnosing and treating the full spectrum of conditions.
She has worked in the NHS as a consultant at the Chelsea & Westminster since 2009 before moving onto the West London Mental Health Trust until 2017. There, she led a crisis team and liaison service, an assertive outreach team specialising in psychosis and latterly, a recovery community team.
Dr Moodley now practices privately.
She accepts referrals from patients, GPs, Occupational Health departments and employers.
She is able to communicate fluently in French and conversational Spanish.
Any information disclosed will remain confidential, usually only released with patient consent.
Personal statement
Dr Moodley is very privileged to be able to form close relationships with her clients and uses a collaborative approach to addressing their mental health needs. She offers integrative treatments, which are evidence-based in the first instance, but also emphatic and negotiable.
She has access to extensive psychotherapeutic interventions as well as pharmacological if needed. She aims to incorporate a traditional approach of identifying biological, psychological and social aspects but also endeavour to treat holistically. This may encompass complimentary therapies if so appropriate.
Dr Moodley sees herself as having a pioneering approach to psychiatry. She already introduced personalised medicine into her practice, in the form of pharmacogenetic 'Myogenes' testing, which allows a more targeted and informed approach to medication choice.
She is also one of the only consultant psychiatrists in London using a leading medical device, 'Alpha-Stim', a safe and extremely well-tolerated FDA-approved treatment for anxiety, depression, insomnia and pain management. With over 150 clinical studies to support its use and 30 years' experience, this leading cranial electrotherapy technology is likely, in time, to become routine clinical practice, as it provides a highly effective alternative to medication. Alpha-stim looks set to get NICE approval for the treatment of Generalised Anxiety Disorder in the near future following a successful study in the NHS.
On a personal note, she enjoys regular Pilates, Tabata, cycling and the arts, as well as travelling.
Additional information about research, publications and interests:
Dr Moodley has 10 original authorships including, papers and abstracts in peer-review medical journals.
She lectures to GP colleagues and tutor on the GP training rotations attached to Imperial Medical School.
This enables her to make our new generation of GPs aware and competent in identifying mental health needs and when to refer on to specialist care.