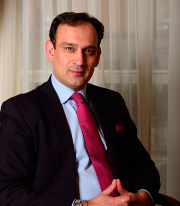 Dr Rajeev Dhar
Consultant Psychiatrist , General Psychiatry
Conditions treated
Treatment approaches
Professional qualifications, accreditations and memberships:
MBBS MRCPsych
MRCPsych MBA FRSA Barrister
Member Royal College of Psychiatrists
Member American Psychiatric Association
Fellow of The Royal Society of Arts
Fellow of The Royal Society of Medicine
Member of The Honourable Society of Lincoln's Inn
Professional experience:
I am experienced in the assessment and management of mental health disorders both on an outpatient and inpatient basis. I have worked as a senior consultant psychiatrist for many years and previously in NHS management as a Clinical Director for a borough of London. I have also been an honorary academic at the Institute of Psychiatry, King's College. I am also experienced in providing expert evidence to Courts, Tribunals and for the purposes of personal injury, clinical negligence and employment matters in the UK and abroad. In addition to my clinical skills I am a qualified barrister and have lectured on mental health issue and the law for many years.
Personal statement:
I provide a problem solving approach to assessment and treatment of mental disorder utilising a multidisciplinary where possible. I strongly believe in providing a clear explanation of the condition, the rational behind any treatment and working with the patient to resolve their difficulties. I have a special interest in work related difficulties, stress and burnout and occupational mental health helping and guiding employees and/ or employers in dealing with the impact of mental health problems on the individual and the organisation. I am experienced in providing specialist psychiatric assessments for occupational health purposes if required.
Visit Dr Dhar's website: www.drrajeevdhar.co.uk