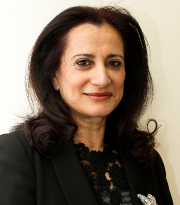 Dr Ghazala Afzal
Adolescent Consultant Psychiatrist
Conditions treated
Professional qualifications, accreditations and memberships
Royal College of Psychiatry
American Psychiatric Association – Distinguished Fellow
American Academy of Child and Adolescent Psychiatry
British Medical Association
Independent Doctors Forum
Professional experience
Dr Afzal has experience and training in three different countries and cultures: Pakistan, the USA, and the UK. This affords her a wide range of approaches to best treat patients. Her training in the United States and the United Kingdom was well-rounded in the diagnoses and use of multiple treatment modalities, i.e. psychoanalytic approaches, group and family work, medication, and CBT.
Dr Afzal professes to love her work, believing that each individual presents a unique challenge and a need to help the person. It was this same thinking that led her to apply a similar approach in society for charitable purposes. Dr Afzal set up the UK Registered Charity, Concern for Mental Health, to help people suffering from a mental illness. Concern for Mental Health centres on consulting with ailing psychiatric institutions, teaching and training Mental Health Professionals, and creating innovative programs that fit in naturally with the local ethos and culture, campaigning to reduce the stigma around mental illness.
Personal statement
Dr Afzal takes a full overview of all aspects of a young person's functioning, including the biological, psychological, and social factors to complete her assessment.
She specialises in the diagnosis and treatment of disorders of thinking, feeling, behaviour, and a change in functioning affecting children, adolescents, and their families. Initially, a comprehensive diagnostic examination is performed to evaluate the current problem with attention to its physical, genetic, developmental, emotional, cognitive, educational, family, peer, and social components. The diagnostic formulation and treatment plan is made, the recommendations are discussed with the child/adolescent, their family and are communicated to the referrer.
An integrated treatment approach is used, involving individual, group or family psychotherapy, medication or consultation with other physicians or professionals from schools, courts or social welfare agencies as needed. When the problems cannot be managed at home, school, or the community, or there are fears for the safety of the young person, Dr Afzal will organise inpatient or day therapy treatment in hospital allowing for recovery and rehabilitation.
Additional information about research, publications and interests
Dr Afzal has a wide understanding of development, psychology and pathology. She delivers lectures on diverse topics related to her work and interests at national and local hospital meetings in the USA and UK, and has publications and presentations related to these topics:
Depression in young children and adolescents
Epidemiological study and follow-up of individuals with Mental Retardation and autism, The Frequency of Fragile X Chromosome in this group: Research with Professor Michael Rutter
Comparison of instruments HBS (Wing) & ADI [Rutter] in the diagnosis of Autism.
DSM IV Diagnostic International Field Trial of Autism
Family Therapy & Attachment Theory(with Dr John Bingham and Professor Issy Kolvin )
Children of Homosexual and Heterosexual Single Mothers
In-depth case study: 'Sexual Development of the Adolescent Daughter of a Homosexual Mother'
Psychiatric Aspects of Trans-sexualism, Transsexual Parents and their children(with Professor Richard Green )
Social and Psychological Implications of Genetic testing, Amniocentesis.
Issues for parents related to the death of a child due to Genetic Disease
Discipline and Aggression in Average Families (with Dr Judith Kestenburg)
Primary Prevention and parenting, a Model Public School program for Toddlers.
Entrancement of the Mother with her Young Baby: Implications for the Sibling.