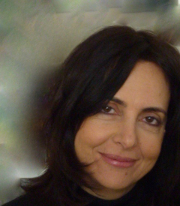 Anastasia Patrikiou
Psychoanalytic Psychotherapist
Conditions treated
Treatment approaches
Professional qualifications, accreditations and memberships
Post-Graduate Qualification in Attachment-based Psychoanalytic Psychotherapy – The Bowlby Centre
Post-Graduate Diploma in Person-Centred Counselling – University of Strathclyde
Bachelor of Architecture – University of the Witwatersrand
UKCP Registered
MBACP Accredited
Professional experience
After qualifying and working as an architect, Anastasia Patrikiou trained as a person-centred counsellor and subsequently as a psychoanalytic psychotherapist. She brings almost 15 years of clinical experience arising from a broad range of settings which includes the NHS, the voluntary sector, the private hospital sector, inpatient and outpatient care and her own private practice.
Furthermore, she set up and managed a pioneering, pilot programme for Age UK, funded by the Department of Health, which offered therapy to older people with dementia. This was subsequently mainstreamed.
Anastasia have worked with clients from across the lifespan with diverse backgrounds and presenting with a broad range of issues which she continues to work with. She has also specialised in eating disorders having worked in an eating disorder unit at another facility for 5 years.
Personal statement
Anastasia believes that a non-judgmental therapeutic relationship in which safety can be fostered can offer a unique opportunity for genuine support, change and development. Often we can find ourselves stuck in conscious and unconscious patterns of living, resulting from earlier difficulties and traumas.
In her work, she aims to offer the opportunity to create such a secure base, in which painful experiences can be thought and spoken about. With awareness comes the choice to change what is preventing us from leading a more fulfilled and happier life. Together with understanding what is painful and difficult, she feels it is important to work with the resilience and resourcefulness present in individuals. She am interested in how early attachment issues have influenced individuals' lives and how through the therapeutic relational experience, clients can learn a new way of relating.
Anastasia works in the here and now, with the difficulties, a current problem is presenting, but also through using attachment theory and working psychodynamically, she aims for the sense to be made of what has happened and ultimately a better understanding of the self. In her work, she also includes concepts and practices of mindfulness. The work is collaborative with reviews at regular intervals in order to assess the efficacy and direction of the work.
Aside from specialisation on eating disorders, she has extensive experience working with anxiety, depression, work stress, self-esteem, relationship difficulties, loss and trauma, bereavement and personality disorders.
Additional information about research, publications and interests:
Patrikiou, A. (2014). Empathy and Earned Security: reciprocal influences, ruptures and shifts in the psychotherapeutic process. In: A. Odgers (Ed.), From Broken Attachments to Earned Security (pp.107-125). London: Karnac Books.