#EatingDisordersAwarenessWeek CPD event held by Nightingale Hospital
Eating disorders are complex and secretive illnesses. This means that GPs and health professionals often find themselves faced with a myriad of questions and uncertainty.
In recognition of #EatingDisordersAwarenessWeek, we held a CPD seminar for health professionals on Thursday the 6th March 2020.
The seminar was delivered by Dr Helen Murphy, our Lead Consultant Psychiatrist for Eating Disorders; and Dr Joanna Silver, our Lead Therapist for Eating Disorders.
Drawing from their many years as experts within their respective fields, they discussed the different ways which patients in 2020 present with eating disorders, and effective ways to engage and treat such patients.
This seminar discussed the different ways in which patients in 2020 present with eating disorders and will talk about ways to engage and treat such patients.
Key questions and topics surrounding eating disorders addressed were:
• Eating disorders and disordered eating – is there a difference and does it matter?
• Is the modern culture of 'wellness' something to be celebrated or feared?
• Do GPs need to intervene with 'fussy' eaters?
• What is the relationship between social media and eating disorders?
• Are food and calorie focused apps risky for patients in the grip of an eating disorder, or a positive force for helping vulnerable patients?
We were also honoured to have a Nightingale Hospital ex-patient bravely share her battle and recovery journey with anorexia; reminding audiences about the devastating human impacts this illness has on individuals and their loved ones.
Thank you to the GPs, health professionals and members of the London media who braved the rain to join us for such an important topic of discussion. We're also grateful for all of the donations we raised for our charity partner Beat, the UK's charity for eating disorders.








Did you know we now offer free telephone assessments regarding eating disorder treatment at Nightingale Hospital?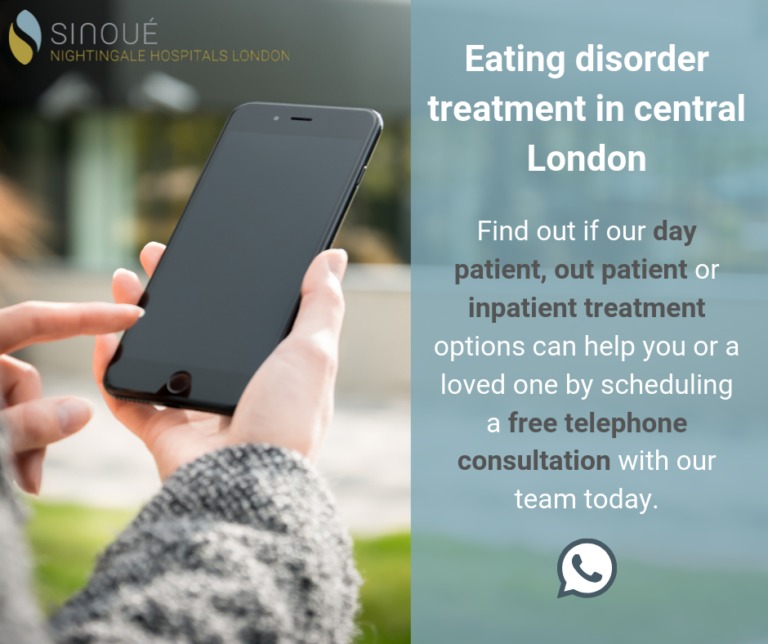 Sorry. This form is no longer available.
Make an enquiry
Please contact us in confidence so we can help.
Enquire now
Related Conditions
Relevant specialists
Dr Helen Murphy

Consultant Psychiatrist
Useful Links