Paul celebrates three years of sobriety after completing Nightingale's 28-day addiction treatment programme in London
We would like to extend a massive congratulations to Paul, who celebrated three years of sobriety this weekend, following the successful completion of the 28-day addiction rehabilitation programme at Nightingale Hospital.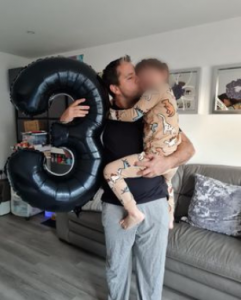 "I crawled into Nightingale Hospital 3 years ago, and today, I celebrate my 3-year clean birthday, thanks to all of you.
Words cannot convey the way I feel today. Three years clean and sober, and what a journey it has been. I have had tears of joy streaming for the last two days as I think about where I was and where I am today. I woke up this morning with my son at my partner's house with her kids and I felt the love. No matter what, I never need to use drugs or drink again. One day at a time.
I am truly too blessed to be stressed. Life is so wonderful today and I am free… Free from active addiction that had me by the short and curlies for years on end. I could never imagine a way out, but with hard work, determination, courage, and strength, one day at a time, here I am celebrating three years clean.
A massive thank you to everyone in my life today for supporting me, standing by me and being on this journey with me and helping me to be the best version of myself I can be," shared Paul.
We're all behind you, Paul. Congratulations!
Drug and alcohol addiction treatment in London
Adult patients can be admitted to Nightingale Hospital for an intensive and residential 28-day addiction treatment programme. It is suitable for those who have a dependency on alcohol or drugs (including amphetamine, benzodiazepine, cannabis, cocaine, codeine, ecstasy, heroin, ketamine, inhalant, opiates, and prescription drugs): or for behavioural addictions (such as gambling, sex and love and technology). Our expert addictions treatment team are also skilled in supporting patients with dual diagnosis.
The addiction treatment programme at Nightingale Hospital has a strong emphasis on relapse prevention, psychoeducation, group therapy, cognitive behavioural therapy (CBT), implementation of positive coping strategies and family involvement in treatment. It offers an introduction to mutual aid groups such as AA (Alcoholics Anonymous), NA (Narcotics Anonymous) and CA (Cocaine Anonymous).
Our caring and experienced team foster a treatment community, with the aim to give you a strong foundation in abstinence-based recovery, and address addictive behaviours. The patient-focused therapeutic journey will develop your knowledge, personal resources and tools to sustain healthier ways of living life free from active addiction.
We are an accredited service by the British Association for Counselling and Psychotherapy (BACP).

What can I expect from treatment at Nightingale Hospital?
Before patients can begin their 28-day programme, they may have to undergo a medically assisted detox.
What is a detox?
A drug and alcohol detox programme can be the first step taken before engaging in an intensive rehab programme where you can start a therapeutic journey to begin addressing your addiction.
The purpose of this medically supervised detox is to remove toxic substances from your body, whilst helping to manage withdrawal symptoms that can occur.
You will be admitted to our specialist addiction treatment ward at the hospital, by a Nightingale Hospital consultant psychiatrist. Here, you will receive 24-hour care from specialist nurses, doctors and therapists who are experienced in supporting patients withdrawing from substances.
You may be given appropriately controlled medication throughout this process to help you manage any withdrawal symptoms.
28-day rehabilitation programme
Once you are medically stable through the detox process; then you begin to address the underlying factors that contributed to your addiction. It is through such therapeutic work that you may begin the healing process and your recovery journey.
Our 28-day therapeutic treatment model for recovery is underpinned by a holistic approach combining motivational interviewing, interpersonal group therapy, and creative and experiential therapy alongside 12-step facilitation. A key part of our comprehensive assessment is the identification of key life events or traumas that have significantly influenced active addiction and associated behaviours. We will support you to develop a robust recovery plan prior to discharge.
The core therapeutic programme takes place 7-days a week. In addition to the comprehensive therapeutic programme, all patients receive weekly one-to-one therapy. All patients are under the 24-hour care of an experienced nursing team, a ward doctor, and a consultant psychiatrist, with whom they have direct contact at least two times a week.
All inpatients on the addiction treatment programme agree to random alcohol and drug tests alongside other treatment guidelines. These guidelines are implemented with the sole intention of keeping all patients and hospital staff safe.
Aftercare
To support patients in their recovery journey as they transition from an inpatient to life outside the hospital, we provide free weekly aftercare support for one year after completing treatment and day therapy programmes.
Family involvement in treatment
Addiction is often described as a family disease, as it affects not only the person with the problem but has an emotional and relational consequences for a family system. Research has shown that the involvement of families in the treatment process greatly increases the prospects of a person's recovery and healing for concerned others.
Nightingale Hospital holds a monthly family day for families and carers of those in treatment. This group is facilitated by a family therapist with expertise in addiction recovery.
Those close to the addicted person can often blame themselves and go through a wide range of emotions from despair, depression, and guilt to anger and frustration. This can lead to them feeling exhausted and having difficulty coping, as well as feeling powerless in how to deal with the situation.
Nightingale also facilitates a weekly evening family support group with a therapist present. We hope to give family members strength, hope and understanding so that they are more able to manage the situation at home. The aim of the family support group is to reduce isolation and ensure you do not have to go through this experience alone.
Addictions treatment telephone consultation
We offer a free telephone consultation to determine if addictions treatment would be right for you, or a loved one. Complete the form below and a member of our expert addictions team will be in touch to arrange an appointment.
Make an enquiry
Please contact us in confidence so we can help.
Enquire now
Related Conditions
Treatment approaches
Useful Links