My Nightingale story
I was admitted in April 2022 for three weeks and it changed my life.
I'd wanted to be admitted somewhere, anywhere, for about three years. I needed something to change but didn't have the mental capacity to make this happen. Then in April 2022, I hit rock bottom.
I think rock bottom, rather than being a terrible place, which it obviously feels at the time, can maybe be the best place for you. Firstly, it forces your hand. You have to seek to help, you have to do something or go somewhere.
And secondly, from rock bottom, there's only one way of travel, back up.
I know this now. I didn't know this then.
Whilst I had thought about taking my own life more and more over the last three years, it wasn't something I ever really thought I would go through with, but just thinking about it so often cannot have been healthy.
The first day and night are not easy. On arrival my bags were checked, my long phone charger taken (bring a small one – top tip!) and worst of all, my shoelaces were taken (soon to be given back).
I remember thinking at the time, "What the hell have I gotten myself into here?" But, as I came to learn, everything at the Nightingale is done for a reason and, more often than not, you can't see it, and just have to have faith that everything has been well thought out and researched. I can now see it was.
Within a week or so of admission, I was diagnosed with ADHD and Mixed Anxiety and Depression Disorder (M.A.D.D. – you couldn't make this up!), and was also told I had "an unhealthy relationship with uncertainty".
Just knowing this, knowing there was a reason for everything and that it wasn't me being different or stupid, and that everything in my life to this point now made sense, immediately changed everything for me. I also knew Nightingale's reputation, and that I was speaking to the top nurses, therapists and consultants in the world, so had trust and belief in them, which was such a relief. This has since been totally justified.
I received therapy with insights that were on another level from anything I had received before, some of which blew my mind. They were able to tell me things about my behaviour that I instantly recognised, but would never have been able to put together.
I attended every session thinking that I was given this finite opportunity to get better, and I was damned if I was gonna not use it. If I sat in a session for an hour and 10 seconds of practice could work for me and help, that was an hour well spent in my eyes. I am aware I have the mindset of a few years of life experience, and this may not be the same for others, but this was my outlook.
I remember seeing creative writing and art therapy on my timetable and thinking, "What a load of (for want of the words I did use) arty farty useless nonsense." These turned out to be my best sessions. The words and the creations just spewed out of me like a running tap. I didn't know they were in there. So my advice would be to try EVERYTHING.
Everyone I came in contact with was simply superb. The hugest compliment I can give Nightingale is that (and I saw this with my own eyes), everyone is treated as an individual.
When I fell into a deep depression, I was dealt with in stark contrast to others in the same position.
I argued this at the time (feeling it was harsh), but am now able to see that my treatment in the situation was what I needed at that time and that I could deal with it. Most importantly it worked, whilst others may have needed a more slow and comforting approach. I am so grateful for this in hindsight.
I still have some way to go, and I still see a therapist from the Nightingale weekly. But, even without that, I am now living the life that I knew, without any shadow of a doubt, was utterly impossible.
*****
I hope to live the life I know is impossible: A poem by J
Dated 20th December 2022 
As things appear
I'll drink a beer
I'm full of cheer
I got here
•
The mind more clear 
It does less smear 
A good end year
I got here
•
A new career
A different gear
I'm cavalier 
I got here 
•
Won't disappear 
Won't shed a tear
Won't hide or jeer 
I got here 
•
But there's still fear
Must persevere
Can't yet revere 
But I did get here!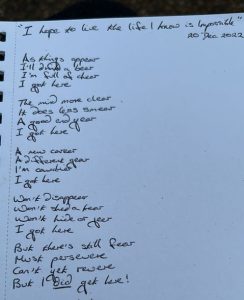 J shares: "I was thinking about suicide a lot and always held onto a quote I saw online that someone had said that 5 years ago they wanted to take their own life but for some reason, they didn't and today, 5 years on. They were now living the life they knew was impossible. It was the KNOWING IT WAS IMPOSSIBLE that I held onto. The fact one day I had to have blind faith that I would live a life that today I knew without any doubt was 100% impossible."
Make an enquiry
Please contact us in confidence so we can help.
Enquire now
Related Conditions