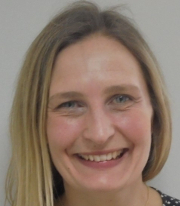 Dr Zoe Starnawski
Counselling Psychologist, General Psychiatry
Conditions treated
Treatment approaches
Professional qualifications, accreditations and memberships
Health and Care Professions Council (HCPC) Registered Practitioner Psychologist
British Psychological Society (BPS) Chartered Psychologist
Full Member of the Division of Counselling Psychology
Professional Doctorate in Counselling Psychology
Master of Arts in Developmental Psychology
Conversion Diploma in Psychology
Graduate Diploma Psychological Studies
Bachelor's Degree in English Literature and History
Professional experience
Dr Zoe Starnawski is experienced in helping people with various psychological difficulties including depression, anxiety, social anxiety, stress, OCD, bereavement, trauma, relationship difficulties, work-related issues, self-esteem and personal development. She has experience providing short and long term therapy.
Although her main practice at the Nightingale is working individually with adults, she has experience working across different age groups, including older adults and children and has some experience working with families and helping to facilitate therapy groups.
She has worked providing individual psychological therapy in private practice as well as in various NHS settings, including a specialist women's health service, a secondary and tertiary level psychological service and GP surgeries.
She has also worked for a charitable school-based service providing long term individual therapy to young children.
Personal statement
Dr Starnawski's aim is to work collaboratively with clients, providing a safe and non-judgmental space for them to be able to gain a greater understanding of their difficulties to empower them to be able to make positive changes in their lives.
As a counselling psychologist, she sees each client as being a unique individual and then tailors treatment to meet the needs of each client. She works integratively, drawing upon a variety of evidence-based therapeutic models.
Whilst she predominately works using a Cognitive Behavioural Therapy (CBT) approach, she also integrates other models including mindfulness, psychodynamic, person-centred and schema approaches according to a client's individual needs.
Working in London, she has had experience working with diverse populations and a range of cultures and has worked with young children, adults, and older adults within the NHS, private and charitable sectors.
Additional information about research, publications and interests
Dr Starnawski is currently undertaking EMDR training as she is interested in being able to apply this therapy to help clients who are suffering from trauma, as well as other difficulties, such as anxiety and depression.
She is also interested in applying mindfulness to help clients who may be struggling with stress, depression and anxiety.  She has attended a' teaching mindfulness to clients' course, as well as a Buddhist meditation course to help to understand both the theory and practice of mindfulness and meditation.
Herdoctoral research looked at couple relationships and women's health issues, specifically heterosexual couples' experiences of premenstrual syndrome (PMS). This topic stemmed from interest and curiosity of the impact of difficulties, such as stress and illness on couple relationships.