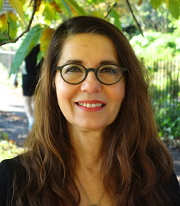 Dr Zerrin Atakan
Consultant Psychiatrist, Hon. Senior Lecturer
Conditions treated
Treatment approaches
Professional qualifications, accreditations and memberships
MD (Turkish)
MRCPsych
FRCPsych
Professional experience
After completing psychiatric training in Turkey, Dr Atakan moved to the UK with a research scholarship, where she obtained her membership degree from the Royal College of Psychiatrists.
From 1990 until 2003, for 13 years, she worked as a psychiatric intensive care consultant and from 2003 until 2007 was the lead consultant at the National Psychosis Unit at the Maudsley Hospital, London.
She is currently doing part-time private practice as well as researching the effects of cannabis on mental functioning.
Dr Atakan has extensive experience with treating and helping those with psychoses, depression, anxiety, PTSD, OCD and other forms of mental health problems. She is also known as an expert in treating treatment-resistant psychosis as well as helping those who have problematic cannabis use.
Personal statement
Dr Atakan approaches people as individuals in unique circumstances. She believes in working in a collaborative manner with patients and their carers.
She has particular expertise in diagnosing and treating schizophrenia, bipolar disorder, depression, OCD, PTSD and cannabis use related mental health problems.
She has been carrying out cannabis research at the Institute of Psychiatry, Psychology and Neuroscience for some years and has numerous publications published in peer-reviewed journals.
Additional information about research, publications and interests
Englund A, Atakan Z, Kralj A, Tunstall N, Murray R, Morrison P. The effect of five day dosing with THCV on THC-induced cognitive, psychological and physiological effects in healthy male human volunteers: A placebo-controlled, double-blind, crossover pilot trial. J Psychopharmacol. 2015 Nov 17. pii: 0269881115615104. [Epub ahead of print]
Gardner-Sood P, Lally J, Smith S, Atakan Z, Ismail K, Greenwood KE, Keen A, O'Brien C, Onagbesan O, Fung C, Papanastasiou E, Eberherd J, Patel A, Ohlsen R, Stahl D, David A, Hopkins D, Murray RM, Gaughran F. (2015) Cardiovascular risk factors and metabolic syndrome in people with established psychotic illnesses: baseline data from the IMPaCT RCT study-Corrigendum. Psychol Med. Sep;45(12):2631
Gardner-Sood P, Lally J, Smith S, Atakan Z, Ismail K, Greenwood KE, Keen A, O'Brien C, Onagbesan O, Fung C, Papanastasiou E, Eberhard J, Patel A, Ohlsen R, Stahl D, David A, Hopkins D, Murray RM, Gaughran F; IMPaCT team. (2015) Cardiovascular risk factors and metabolic syndrome in people with established psychotic illness: baseline data from the impact of randomized controlled trial. Psychol Med. Sep;45(12):2619-29.
Di Forti M, Marconi A, Carra E, Fraietta S, Trotta A, Bonomo M, Bianconi F, Gardner-Sood P, O'Connor J, Russo M, Stilo SA, Marques TR, Mondelli V, Dazzan P, Pariante C, David AS, Gaughran F, Atakan Z, Iyegbe C, Powell J, Morgan C, Lynskey M, Murray RM. (2015) Proportion of patients in south London with first-episode psychosis attributable to use of high potency cannabis: a case-control study.
Lancet Psychiatry.  Mar;2(3):233-8.
Bhattacharyya S, Falkenberg I, Martin-Santos R, Atakan Z, Crippa JA, Giampietro V, Brammer M, McGuire P. (2015) Cannabinoid modulation of functional connectivity within regions processing attentional salience. Neuropsychopharmacology. May;40(6):1343-52.
Kolliakou A, Castle D, Sallis H, Joseph C, O'Connor J, Wiffen B, Gayer-Anderson C, McQueen G, Taylor H, Bonaccorso S, Gaughran F, Smith S, Greenwood K, Murray RM, Di Forti M, Atakan Z, Ismail K. (2015) Reasons for cannabis use in first-episode psychosis: does strength of endorsement change over 12 months? Eur Psychiatry. Jan;30(1):152-9.
Bhattacharyya S, Atakan Z, Martin-Santos R, Crippa JA, Kambeitz J, Malhi S, Giampietro V, Williams S, Brammer M, Rubia K, Collier DA, McGuire PK. (2015) Impairment of inhibitory control processing related to acute psychotomimetic effects of cannabis. Eur Neuropsychopharmacol. Jan;25(1):26-37.
Bhattacharyya S, Falkenberg I, Martin-Santos R, Atakan Z, Crippa J, Glampietro V, Brammer M, McGuire P. (2014) Cannabinoid modulation of functional connectivity within regions processing attentional salience.  Neuropsychopharmacology (Accepted for publication).
Batalla A, Crippa JA, Busatto GF, Guimaraes FS, Zuardi AW, Valverde O, Atakan Z, McGuire PK, Bhattacharyya S, Martin-Santos R.Neuroimaging Studies of Acute Effects of THC and CBD in Humans and Animals: A Systematic Review. (2014) Curr Pharm Des. 20(13):2168-2185.
O'Brien C, Gardner-Sood P, Corlett SK, Ismail K, Smith S, Atakan Z, Greenwood K, Joseph C, Gaughran F. Provision of health promotion programmes to people with serious mental illness: a mapping exercise of four South London boroughs. (2014) J Psychiatr Ment Health Nurs. 21(2):121-127.
Atakan Z, Bhattacharyya S, Allen P, Martín-Santos R, Crippa JA, Borgwardt SJ, Fusar-Poli P, Seal M, Sallis H, Stahl D, Zuardi AW, Rubia K, McGuire P.Cannabis affects people differently: inter-subject variation in the psychotogenic effects of Δ9-tetrahydrocannabinol: a functional magnetic resonance imaging study with healthy volunteers. (2013) Psychol Med. Jun;43(6):1255-67.
Gaughran F, Stahl D, Ismail K, Atakan Z, Lally J, Gardner-Sood P, Patel A, David A,
Hopkins D, Harries B, Lowe P, Orr D, Arbuthnot M, Murray R, Greenwood KE, Smith S. (2013) Improving physical health and reducing substance use in psychosis – randomised control trial (IMPACT RCT): study protocol for a cluster randomised controlled trial. BMC Psychiatry. Oct 16;13(1):263.
Rocchetti M, Crescini A, Borgwardt S, Caverzasi E, Politi P, Atakan Z, Fusar-Poli P.Is cannabis neurotoxic for the healthy brain? A meta-analytical review of structural brain alterations in non-psychotic users. (2013) Psychiatry Clin Neurosci. Nov;67(7):483-92.
Atakan Z, Morrison P, Bossong MG, Martin-Santos R, Crippa JA (2012) The Effect of Cannabis on Perception of Time: A Critical Review, Current Pharmaceutical Design; 18(32): 4915-4922.
Atakan Z (2012) Cannabis, a complex plant: different compounds and different effects on individuals, Therapeutic Advances in Psychopharmacology, 2(6) 241–
254.
Kolliakou A, Ismail K, Atakan Z (2012) Why do psychotic patients use cannabis? Case series. Current Pharmaceutical Design, 18(32):4950-9.
Zuardi AW, Crippa JAS, Hallak JEC, Bhattacharyya S, Atakan Z, Martín-Santos R, McGuire PK, Fusar-Poli P,Guimarães FS (2012) A Critical Review of the Antipsychotic Effects of Cannabidiol: 30 Years of a Translational Investigation, Current Pharmaceutical Design 18(32):5131-40.
Bhattacharyya S, Atakan Z, Martin-Santos R, Fusar-Poli P, Crippa JA, McGuire PK (2012) Neural Mechanisms for the Cannabinoid Modulation of Cognition and Affect in Man: A Critical Review of Neuroimaging Studies, Current Pharmaceutical Design, 18(32):5045-54.
Z. Atakan, Managing cannabis use in people with severe mental illness: what can be done? (2009), Advances in psychiatric treatment vol. 15, 65–71
Z. Atakan, Cannabis use with people in severe mental illness: is it important? (2008), Advances in Psychiatric Treatment vol. 14, 423–431
Media work (on cannabis related issues):
Cannabis Psychosis' Channel 4 documentary, (One hour long) 16.12.2002 (Transmitted again in April 2003)
BBC World 'Violence and Society', following WHO report on violence, 3.10.2002
Regular media work on cannabis and mental health-related issues, including appearances on Newsnight – BBC 2, BBC One 6:30 news and Radio 4
Horizon BBC1 documentary on the effects of cannabis, transmitted on 3 February 2009
BBC Learning –transmitted in spring 2009
Website and social media