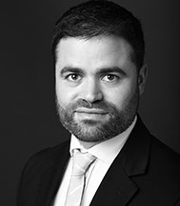 Dr Jeremy Beider
Consultant Psychiatrist, Sleep Specialist
Conditions treated
My professional qualifications, accreditations and memberships
GMC Specialist Register
MRCPsych
MSc with Distinction
MBBS
BSc
Professional experience
Curiosity, a desire to truly understand things and a deep interest in people are the key elements that run through Dr Jeremy Beider's ongoing educational and professional journey and continue to shape his clinical practice.
For the best part of the last 20 years; through medical school, philosophy, clinical psychiatry and the world of neuroscience research; it is particular individuals and specific moments that continue to influence me most.  Across many institutions and a diverse range of settings, Dr Beider has learnt most from individuals and teams who do not know it all, from those who are open to learning and from individuals who are able to bring a sense of possibility to each new moment and experience.
Curiosity, and a deep interest in people, has motivated his higher training in adult psychiatry, addiction psychiatry and the field of sleep medicine; and were key features of his work as a consultant general adult psychiatrist within the London National Health Service.
During his time as a consultant adult psychiatrist within the NHS, Dr Beider contributed positively to developing a healthy team dynamic, brought structure and methodology to challenges facing the service, and held clinical responsibility for a large number of patients, including those on community treatment orders.
Dr Beider is Section 12 approved, has an approved clinician status and regularly provides Medicolegal Services as an independent expert.
My personal statement
John Steinbeck in his novel, East of Eden writes, "..I believe: that the free, exploring mind of the individual human is the most valuable thing in the world." There is something about this idea that really speaks to Dr Beider.
An open mind underpins his approach to the patient-doctor encounter, and whilst he may bring knowledge and prior experience to the therapeutic space, there is, by virtue of the nature of the encounter, higher value still, in the thoughts, emotions, experiences and needs of the person, couple or family he finds himself with.
A mutual attitude of learning: contributed to by both patient and doctor, with prior knowledge and experience from both, coexisting, alongside an openness to the possibility of hope, renewal and change, allows positive gradual and consistent progress to evolve. This, with one more very important factor – the power of time to facilitate change, both within the clinical encounter and over the course of the treatment pathway allows for wonderful realities to unfold. This essentially, is what he has learnt, and it is this approach that he tries to bring to his clinical practice.
It is his personal clinical experience that many emotional and behavioural difficulties are treatable. It is Dr Beider's experience that distressing symptoms respond to treatment and prognostic trajectories are alterable, and he relays this to the individuals and families he works with, attempting to describe how things will be, and how the particular interventions will help and the time frames that may be involved.
Counter-intuitively, or so it seemed earlier on in his career, it has always been his experience that the correct medication or combination of medications, at the right dose or doses, and with the correct dosing schedule, alongside other interventions, can be transformative. It seems almost unbelievable that a 'pill' should somehow be able to affect distressing or dysfunctional feelings, thoughts or behaviours, but there is a clear evidence base when looking at the response of large numbers of individuals to psychotherapeutic, psychological, psychosocial and medical treatments, that these interventions do work.
Finding the right medication or combination of medications, hinges on a grasp of the underlying issue and is an art learnt over many years, of listening, observing and understanding. An appreciation for the wide number of pharmacological options available, the impact of dose and dosing schedule, and a feel for the underlying malfunctioning neural circuitry, as manifested in the patient's experience of themselves and their world leads to prescribing that is efficacious and helpful. Being mindful that a cost-benefit analysis of the medications and dosages prescribed must always take place, and being able to sensibly approach and manage side effects improves the overall benefit associated with any pharmacological intervention.
I have a good understanding of the different psychotherapeutic, psychological and related treatment modalities available and will always attempt to provide helpful guidance to an individual or family on the types of therapy that may be helpful and the therapists I regularly work alongside whom they may build a strong therapeutic alliance with.
Additional information about research, publications and interests
Dr Beider has a  Master's Degree in Behavioral Sleep Medicine. He is very interested in the clear links between sleep-wake function and emotional health and wellbeing.
He is also very interested in Adult Attention Deficit Disorder (AADD) and Attention Deficit Hyperactivity Disorder (ADHD), addiction, mood and anxiety disorders.