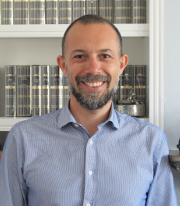 Dr Giovanni Giaroli
Child and Adolescent Consultant Psychiatrist
Conditions treated
Treatment approaches
Professional qualifications, accreditations and memberships
Doctor of Medicine, MD (University of Modena, Italy)
Child & Adolescent Psychiatry (Melbourne, Australia)
General Adult Psychiatry (CCT) (University of Verona, Italy)
Masters in Science (Distinction) (University College London)
Post Graduate Diploma in Cognitive Analytic Therapy (CAT) (St. Thomas' Hospital, London)
PhD in Psychiatric Generics (University College London) (ongoing)
General Medical Council, UK (No: 6151789)
American Academy of Child & Adolescent Psychiatry
Association for Cognitive Analytic Therapy
International Early Psychosis Association
Italian Medical Order (No. 3157)
Italian Society of Psychopharmacology
Professional experience
Dr Giovanni Giaroli graduated in medicine and surgery with high honours at the University of Modena in 2001. He consequently trained in general adult psychiatry at The World Health Organisation Collaborating Centre of Verona, obtaining his CCT in 2005. He then moved to Australia where he trained in child and adolescent psychiatry at the Intervention Centre for Early Psychosis at the Royal Children's Hospital in Melbourne. In 2007 he was offered a substantive position as a Child & Adolescent Consultant Psychiatrist in the NHS (North East London Foundation Trust) where he remained until 2014.
Dr Giovanni Giaroli is now a full-time consultant psychiatrist in the private sector, treating psychiatric disorders across the lifespan (from childhood to adulthood).
He is also based at University College London where he focuses research on psychiatric genetics (ADHD, Bipolar Disorders and Intellectual Disabilities) and lectures in Biological Psychiatry and Psychopharmacology to masters students in mental health studies.
Personal statement
Dr Giaroli is an approachable and caring psychiatrist, who is passionate about assessing and treating with evidence-based methods and compassionate about his patients.
Dr Giaroli offers a 15-minute free phone consultation to anyone interested in his services, where he can assess whether he can offer what you're looking for and if he is the right personality match for you.
He strives to offer a service of excellence in the neurodevelopmental disorders, specialising in ADHD and Autism Spectrum Disorder.
Dr Giaroli's clinical practice is based on current evidence-based research, including the latest clinical and international guidelines. His current approach enables him to work with patients throughout their lifespan, and offer continuity and expertise in the area of neurodevelopment.
Additional information about my research, publications and interests
What Future Role Might N-Acetyl-Cysteine Have in the Treatment of Obsessive-Compulsive and Grooming Disorders?: A Systematic Review.
Smith L, Tracy DK, Giaroli G.
J Clin Psychopharmacol. 2016 Feb;36(1):57-62.
The effect of the burden of copy number variation on behavioural and psychiatric symptoms in adults with idiopathic intellectual disability: a methodological approach utilizing brain expression and haploinsufficiency data. G Giaroli, N Bass, K Wolfe, A Strydom, A McQuillin. Abstract accepted to Word Congress of Psychiatric Genetics
16-20 October, 2015
The diagnostic odyssey: barriers to genetic testing in UK intellectual disability psychiatry services. K Wolfe, N Bass, G Giaroli, A McQuillin. Abstract accepted to Word Congress of Psychiatric Genetics
16-20 October, 2015
The influence of Copy Number Variation on behavioural and p[psychiatric symptoms on ID. A McQuillin, G Giaroli, K Wolfe, N Bass. Abstract accepted to SSBP 18th International Symposium. 2-5 September 2015
Dementia praecox redux: a systematic review of the nicotinic receptor as a target for cognitive symptoms of schizophrenia.
Rowe AR, Mercer L, Casetti V, Sendt KV, Giaroli G, Shergill SS, Tracy DK.
J Psychopharmacol. 2015 Feb;29(2):197-211.
Taking the fuel out of the fire: evidence for the use of anti-inflammatory agents in the treatment of bipolar disorders.
Ayorech Z, Tracy DK, Baumeister D, Giaroli G.
J Affect Disord. 2015 Mar 15;174:467-78.
Does rare matter? Copy number variants at 16p11.2 and the risk of psychosis: a systematic review of literature and meta-analysis.
Giaroli G, Bass N, Strydom A, Rantell K, McQuillin A.
Schizophr Res. 2014 Nov;159(2-3):340-6.
Classical hallucinogens as antidepressants? A review of pharmacodynamics and putative clinical roles.
Baumeister D, Barnes G, Giaroli G, Tracy D.
Ther Adv Psychopharmacol. 2014 Aug;4(4):156-69.
Ketamine as the prototype glutamatergic antidepressant: pharmacodynamic actions, and a systematic review and meta-analysis of efficacy.
Caddy C, Giaroli G, White TP, Shergill SS, Tracy DK.
Ther Adv Psychopharmacol. 2014 Apr;4(2):75-99.
The use of antipsychotics in preschoolers: a veto or a sensible last option?
Memarzia J, Tracy D, Giaroli G.
J Psychopharmacol. 2014 Apr;28(4):303-19.
To sleep or not to sleep: a systematic review of the literature of pharmacological treatments of insomnia in children and adolescents with attention-deficit/hyperactivity disorder.
Barrett JR, Tracy DK, Giaroli G.
J Child Adolesc Psychopharmacol. 2013 Dec;23(10):640-7.
Drug attitude in adolescents: a key factor for a comprehensive assessment.
Molteni S, Giaroli G, Rossi G, Comelli M, Rajendraprasad M, Balottin U.
J Clin Psychopharmacol. 2014 Feb;34(1):99-108.
Beyond dopamine: glutamate as a target for future antipsychotics.
Sendt KV, Giaroli G, Tracy DK.
ISRN Pharmacol. 2012;2012:427267.
Bipolar depression: clinically missed, pharmacologically mismanaged.
Lloyd LC, Giaroli G, Taylor D, Tracy DK.
Ther Adv Psychopharmacol. 2011 Oct;1(5):153-62.
Performance of the Italian version of the subjective well-being under neuroleptic (SWN) scale in schizophrenic outpatients.
Balestrieri M, Giaroli G, Mazzi M, Bellantuono C.
Pharmacopsychiatry. 2006 May;39(3):81-4.
Psychiatric disorders and depression in multiple sclerosis outpatients: impact of disability and interferon-beta therapy.
Galeazzi GM, Ferrari S, Giaroli G, Mackinnon A, Merelli E, Motti L, Rigatelli M.
Neurol Sci. 2005 Oct;26(4):255-62.